Magnetic Puzzle Map: An ideal Gift for Creative Minds
Bookstores, gifts shops and supermarkets can place their bulk orders now for magnetic puzzle map for their customers who are looking for an ideal gift product this coming holiday. Magnetic puzzle map is a very good gift to people who loves puzzles.
People, especially kids could develop their cognitive skills at the same time enjoying themselves while they play with the use of an educational product such us the puzzle map. Kleanthis Design offers its magnetic puzzle map of USA. The product is an interactive puzzle of magnetic pieces of the map of USA. This initiates children's interest to learn what is within and beyond the USA borders in size. The product is very safe to use with its magnetic pieces that are generally safe for children.
Aside from magnetic puzzle map, the company also offers custom magnets, embossed magnetic postcards and refrigerator , magnets, all made with highly quality materials that most customers are looking for in an ideal gift product.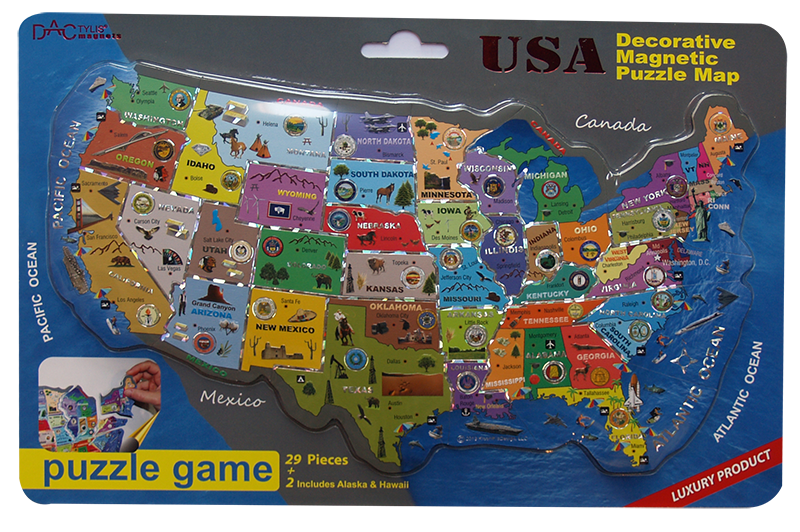 Wait until you experience it yourself…
Once you touch and feel the incredible difference that our embossed printing and design work makes, you 'll be amazed at how UNIQUE this Magnetic Map product is from all others.
We use a special "3-D" embossing process that gives a raised feel to all the details in the picture – so that children can really get a "feel" for what each different State in the Union is all about!
The hours and hours of extra "play" with this attractive Magnetic Map will help children learn American geography better than any teaching aid available today!
These days, it's important for students to know their geography.